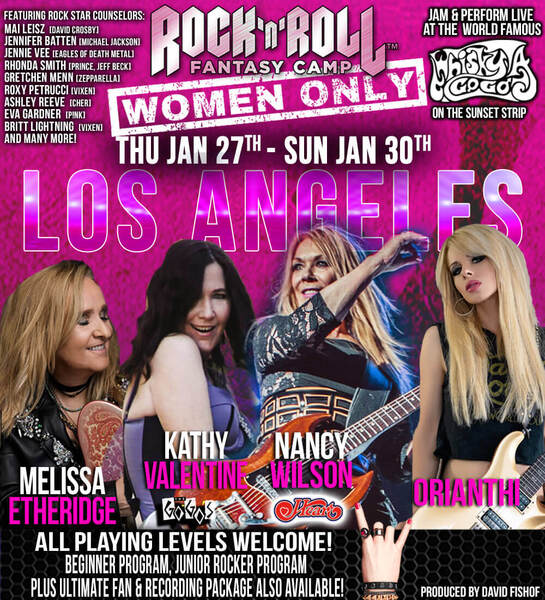 Rock 'n' Roll Fantasy Camp Announces The First EVER Women Only Camp
Today, Rock 'n' Roll Fantasy Camp unveils its first ever WOMEN ONLY Rock Camp! This ground-breaking camp will take place in Los Angeles, CA over the Grammy® weekend, January 27-30, 2022 with special headlining mentors including Melissa Etheridge, Nancy Wilson, Kathy Valentine, Orianthi and even more to be announced in the coming weeks. In addition to the women headlining, the crew and staff working on the event will be composed of an entirely female workforce. In addition, the multidisciplinary guest speakers from the music and recording industry will incorporate talented women led by Britt Lightning (Vixen), the musical director for the entire Rock Camp organization. Campers can reserve their spot now at Rockcamp.com.
Excited to be a first-time mentor, rocker Melissa Etheridge said, "It's so inspiring having organizations such as The Rock 'n' Roll Fantasy Camp embrace and support women in the music industry. I'm looking forward to meeting the campers and collaborating with everyone there!"
This exclusive Women Only Camp experience is a safe, non-competitive environment for women of all ages to take their skills and confidence to the next level, realize their dreams are possible, while creating bonds and friendships for life with fellow musicians. Explains counselor and Camp Music Director, Britt Lightning, "Camp becomes an emotional and life changing experience for both campers and rockstars, as you witness transformations in people both musically and emotionally." As The Who's Roger Daltrey concurs, "It's an amazing experience and it makes you remember where you came from."