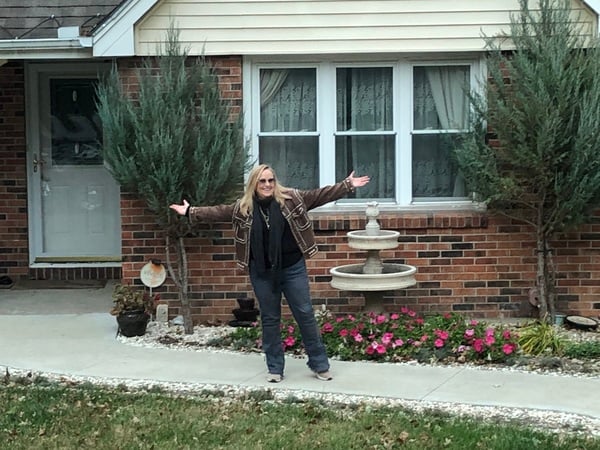 Hometown Tour of Leavenworth
There are not many people who can say they became a star and then took 50 of their biggest fans back home to visit…but Melissa Etheridge can.

On November 3rd, Melissa had a concert in Lawrence, KS, where she rocked the socks off the crowd. Playing in a town so close to home is always a special show. She played many of her songs containing references to her hometown of Leavenworth, such as Nowhere To Go, Shriner's Park and even sang the touching ballad Talking To My Angel, written about her father. The concert was definitely in preparation for what was about to occur the very next day.
With a day off planned in the schedule, the timing was perfect for the Hometown Tour. Fifty fans, who flew in from all over the country and as far as the United Kingdom waited patiently outside the Urban Music Store for Melissa to arrive. As she and Linda got out of their car, our excitement began to bubble over and the crowd started singing "Let's all go to the Medicine Show, hi ho hi ho, e i e i o!" They walked down the block toward the crowd, stopped in front of us and Melissa exclaimed "Welcome to my hometown!" and the crowd went wild! Before long we all got on a bus and drove through town, visiting all the places near and dear to Melissa's heart. We listened to her tell stories, saw the Mayor present her with an award, and enjoyed a Kansas barbeque lunch. As always, Melissa and Linda were as kind as ever, spending time answering questions, signing autographs and taking pictures with all of us on the tour.
Some of the stops included the Leavenworth High School, her childhood home on Miami Street, the baseball field dedicated to her father, the carousel that made Melissa an "organ donor" and of course the music shops where she bought guitars and learned to play.
As Melissa wrapped up her mini "Medicine Show" tour, we had a chance to ask her a few questions about the Hometown Tour.
EN: Melissa, the day we spent in Leavenworth with you was very special. Was there any one stop that was extra special or emotional for you?
MLE: Probably the most emotional moment was when we drove up to the high school and all the kids were waiting on the grass in front and they were waving the school flag back and forth. That brought a tear to my eye.
EN: That was very special for us as well. It was heartwarming to see the Power and Life group, that you were once a member of in high school, give you such a warm welcome home. Your advice to them to appreciate their small town was very endearing. Thank you for sharing that moment with us.
EN: When you got in your car after the tour, was there anything that made you think "Oh man, I forgot to tell them about that..."?
MLE: No, not really. Even though of course there are tons of memories still hanging around.
EN: For many of your fans on this tour, it was a mind-blowing event. Was this as cool for you as it was for us? Why?
MLE: Yes. It was one of those, "dreams come true" moments. It really wrapped up some old 17-year-old's hopes of "coming back to my hometown a star"
EN: We heard people say that day, that they never realized that riding a carousel with Melissa Etheridge was on their bucket list. Did you anticipate this reaction?
MLE: No, that was a very special moment. I didn't realize it would be so fun!
EN: We know this Medicine Show mini tour is wrapping up, and there are some dates in the spring, Europe in the summer and of course the cruise. What else can we look forward to in 2020?
MLE: 2020 will have lots of live performances, as for anything else, I think we are just at the planning stages of what's to come…stay tuned!!
By Tracy Albright