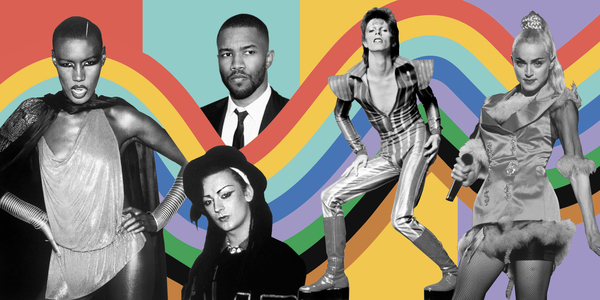 Melissa included in Pitchfork's 50 Songs That Define the last 50 Years of LGBTQ
LGBTQ+ people have always been at pop's vanguard, as performers and audiences; the history of pop music is queer history. Blues originators like Ma Rainey and Bessie Smith, both openly bisexual, helped form the foundation of what would become R&B and rock'n'roll. In the 1920s and early '30s, Prohibition's end gave way to the "Pansy Craze": cabaret drag performances that brought gay nightlife to the masses and carried their aesthetics into mainstream musical theater. In the mid-'30s, at the edge of the Great Depression, moral backlash—sometimes disguised as economic conservatism but usually explicit in its bigotry—shut down many of these clubs and formally criminalized gay sex at a scale that had never before been seen. The closet door, which hadn't even existed as we know it now, slammed shut.
This didn't stop LGBTQ+ musicians from shaping American pop culture. Jazz can't be imagined without the contributions of giants like Billy Strayhorn (of Duke Ellington's band), who was openly gay, and, later, Cecil Taylor, who found that three-letter word was too limiting. Even in the prescriptive world of '60s pop, where teen rebellion was anticipated and pre-packaged, there were artists like Lesley Gore and Dusty Springfield. In fact, Springfield was one of the first pop icons to come out to the public (as bisexual, in 1970)—and, notably, she covered Gore's "You Don't Own Me," as subversive a song as there ever was, on her debut album. The '70s brought glam and disco, gender play, and explicitly queer nightlife back to the mainstream; we can't forget that decade's great gay pop icon, Elton John, and its great bisexual ones, David Bowie and Freddie Mercury. Despite its great appeal to many a very hetero man, many of punk's early groundbreakers were LGBTQ+, from Pete Shelley of the Buzzcocks, who was never shy about his sexuality, to Darby Crash of the Germs, who was sadly closeted during his short life. Undergirded by punk's jagged energy and the electric, over-the-top styles of glam and disco, new wave made space for unconventional queer personalities and for pop to address the AIDS crisis. And so it has evolved, with the late '80s and early '90s giving a particular showcase to lesbian and bisexual women in pop (Meshell Ndegeocello, Melissa Etheridge, k.d. lang, the Indigo Girls), all the way to today, a moment that young pop star Hayley Kiyoko teasingly refers to as "#20gayteen."
This Pride month, Pitchfork editors and contributors have assembled a list of 50 songs from the past 50 years, post-Stonewall riots, that speak to the impact of LGBTQ+ culture and perspectives on the mainstream. Most of the songs here are by LGBTQ+ artists, with a few exceptions we included because they were too notable not to; most of our critics who wrote these entries are LGBTQ+, as well. But this is not in any way meant to be a definitive list; the field is just too wide to narrow to 50 songs.
Instead, we're trying to tell as many stories within this community as we can. Some of the ones I would have loved to tell, personally, didn't make it—like Gary Floyd of the Dicks, whom I've written about before for Pitchfork, or the endlessly talented Dee Palmer of Jethro Tull, who, like me, is trans and intersex. We've tried to get as big a range as possible, though, from classic chart-toppers to genre notables from hip-hop, punk, house, and so on—and we've also gotten some wonderful musicians to reflect on their personal soundtracks, too.
Pride month itself has a number of meanings and uses: a party, a chance to reflect on our history and think about the challenges we have in the present and going forward, a reason to connect with others and think about how all of us view community, a fierce legacy of radicalism and liberatory praxis. There are millions of different ways to be LGBTQ+, after all. I hope you find something meaningful in this list—a history you might not have known, a song you loved that you'd forgotten about, a new favorite—and that you're able to tap into the powerful well of emotions that pop can engender in us and let that push you on. Let's get free.
____________
Four years before Ellen DeGeneres' famous "Yep, I'm Gay" Timemagazine cover, Melissa Etheridge defiantly declared Yes I Am, as both the name of her fourth studio album and a thinly veiled response to the rumors that had been dogging her since the beginning of her career. Where the record's title may have been coy, its hit single, "Come to My Window," was anything but: a scorching mid-tempo ballad of longing, heartache, and dependency.
The iconic video for "Come to My Window" stars a young Juliette Lewis, in a tank top and shag haircut, screaming the song's lyrics while suffering a mental breakdown in a dingy psych ward. She writhes and splutters in her bed, dramatizing Etheridge's comparatively subdued delivery—until near the end of the bridge, when Etheridge lets out a guttural wail to match her white-hot desire. Of course, all human beings deal with wanting each other, but here, Etheridge gave a new face to that particular brand of young queer yearning, with all its excitement and doubt and fear, without succumbing to the cliché of "the love that dare not speak its name." –Cameron Cook
Listen:
Melissa Etheridge, "Come to My Window"