News
04/15/2010 04:48 PM
QVC is now taking PRE-ORDERS for Melissa's upcoming Fearless Love album. You can pre-order the album bundled with a bonus DVD: "The Making Of Fearless Love - a behind-the-scenes look
Melissa and Tammy Etheridge are saddened to announce that they are now separated. The former couple add in a statement: "We ask for consideration and respect for our family as we go through this difficult period."
04/07/2010 06:00 PM
Melissa's video for "Fearless Love" is now eligible for voting on VH1's Top 20 Countdown. Voters control the show so spread the word and let's make Melissa Number One! Vote for "Fearless Love"!
04/07/2010 05:44 PM
Fearless Love doesn't hit stores until April 27, but M.E.I.N. members are already enjoying the first in a series of special song reveals/previews.
Melissa will be interviewed on Canada's The Shaun Proulx Show (airs 3-7 pm ET daily) on Friday, April 9. If you are not within the listening area, the show is streamed live on the web.
04/05/2010 09:26 PM
On April 16, VEVO.com will premiere a 30 minute program featuring songs from Melissa's recent April 1 concert in Palm Springs CA. A short interview with Melissa will also be included.
The History Channels "America The Story of Us" premiers on April 25 and is an epic 12-hour television event that tells the extraordinary story of how America was invented. Melissa's contribution to the series will be featured in episodes 11 & 12.
Melissa will be starting her Fearless Love Tour in Europe! M.E.I.N. Travel Packages for Amsterdam & London are ON SALE NOW!
Multi-GRAMMY Winning Performers Melissa Etheridge and Rob Thomas to Take Part in the Dow Live Earth Run for Water - The Largest Global Water Initiative in History Aimed at Helping Solve the World Water Crisis
Melissa is helping celebrate the 40th Anniversary of
Earth Day!
She will be performing on April 21 from 9:15 to 9:45 pm. at the beautiful Ronald Reagan Building in downtown Washington, D.C.
Mark your calendars for April 27 as Melissa will be singing two songs live ("Fearless Love" and "Come To My Window") on ABC's Dancing With The Star's. Check local listings for time in your area.
03/31/2010 07:31 PM
Melissa will be performing a mix of new songs and greatest hits on Q Sessions Live, QVC Studio Park in West Chester PA on Tuesday, April 20 from 9:30pm - 10:00pm.
KFOG KaBoom will be held on Saturday, May 22 at Candlestick Point in San Francisco CA. Melissa Etheridge and the John Butler Trio will be rocking the KaBoom Stage, followed by the KFOG KaBoom fireworks - synchronized to a World Class Rock soundtrack.
Next week will be Melissa Etheridge's second Dinah Shore experience. But like last year, she still won't have the chance to let loose with the girls.
Hear Melissa's thoughts about her upcoming album, American Idol and more. WAJI Podcast
03/25/2010 07:18 AM
Last October when Melissa was in Washington D.C. for the Pinktober events, she was filmed for a segment of MTV's The Real World D.C. Watch the full episode (Melissa's appearance is about 29 minutes into the show).
03/22/2010 02:00 PM
Melissa was a featured speaker on Saturday, March 20 on the free teleseries Women on the Edge of Evolution: Awakening to the Power to Co-create our Lives and Shape our Collective Future. Now you can Listen To The Program

NARM, the music business association, announced today that it will honor Grammy and Academy Award-winning artist Melissa Etheridge with its Harry Chapin Memorial Humanitarian Award. The presentation will take place at the 2010 NARM Convention on Monday, May 17, in Chicago.

Check out the cover of Melissa's upcoming album Fearless Love, available for pre-order now.

03/16/2010 08:37 PM
Peter Thorn: guitar (has worked with Chris Cornell, Courtney Love)
Dan Rothchild: bass (has worked with Shakira, Tonic)
Kristopher Pooley: keyboards (has worked with Gwen Stefani, Smashing Pumpkins)
Blair Sinta: drums (has worked with Alanis Morissette, Annie Lennox)
03/15/2010 02:24 PM
Listen to Part 1 of L.A. radio/tv personality Bradley Wright's (BradleyOnAir) interview with Melissa.
03/09/2010 01:19 PM
Rolling Stone Preview
FEARLESS LOVE (release date: 4/27)
LOWDOWN: Melissa Etheridge's latest reunites her with John Shanks -
he started as her guitarist and became a producer for Bon Jovi, Miley
Cyrus and others. "When we sat down, I said, 'Let's make that
Zeppelin record we always wanted to make!'" says Etheridge.
On Monday, April 12 Melissa will act as celebrity guest host for a private cave tour of the world famous
Miner Family Vineyards
in Napa Valley CA. She will also be playing a short acoustic set.
Melissa's "Fearless Love" video is now available from iTunes. Now you can watch it anytime, anywhere!
02/22/2010 02:36 PM
Melissa has put together a MySpace Playlist of fearless love-themed songs. Check it out to see which songs made her list.
02/22/2010 01:59 PM

Photo: Paul Parks/Anthology

Melissa played an acoustic version of "Fearless Love" as part of the Sophie 103.7 "Sophie Lounge" concert series, Feb 20 in San Diego CA. You can also see part of their interview with Melissa and her performance of "Bring Me Some Water." And don't miss SoundDiego's write up and photo gallery!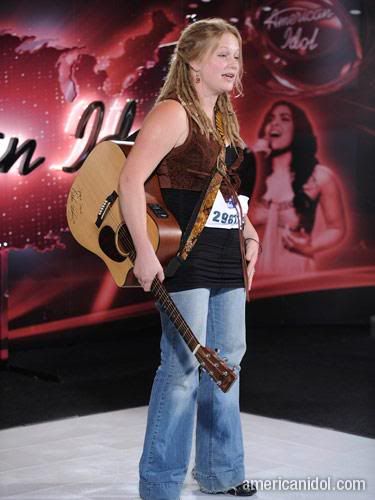 Crystal shows off her autographed Melissa Etheridge guitar

If you've been watching American Idol this season, you are sure to have noticed singing sensation Crystal Bowersox.
02/15/2010 03:00 PM
On Saturday, Feb 20 Melissa will be joining radio station KPRI and Sophie Radio in San Diego for Fearless Love events. For info on how to enter, check out KPRI and Sophie Radio.
02/13/2010 01:08 PM
Access Hollywood will air a behind-the-scenes look at the making of Melissa's new "Fearless Love" video today (Feb 13). Look for more behind-the-scenes footage on AfterEllen.com and Logo.
12/26/2009 05:35 PM
XM Radio's The Pulse will air an hour interview with Melissa on Thursday, Dec 17 at 12:00 Noon ET. Melissa will release her next album, Fearless Love, in 2010. In this interview, she discusses her life, family and new music.

Kevork Djansezian / Getty Images

Check out footage of Melissa on the Red Carpet at the American Music Awards (Nov 22) where she addressed the recent mammogram
Check out our exclusive interview, including video, of Melissa answering questions submitted by M.E.I.N. members. Just log into the M.E.I.N. Member's Page to watch the video and read the interview. Part II of the interview has now been posted.
11/05/2009 07:30 PM
Check out our exclusive interview, including video, of Melissa answering questions submitted by M.E.I.N. members. Just log into the M.E.I.N. Member's Page to watch the video and read the interview.
10/22/2009 07:31 PM
Melissa will be making a return visit to The Show, the beautiful new venue at Agua Caliente Resort & Casino in Palm Springs CA... and the concert happens during Women's Week 2010! M.E.I.N. will be on sale with tickets and a Travel Package on Monday, Oct 26 at 10:00am Pacific Time (ON LINE only) and 1:00pm Pacific Time (on line and customer service phone line).
10/22/2009 05:09 PM
The video for "Ring The Bells," a song created as a result of conversations and musical jam sessions between Melissa Etheridge & Salman Ahmad, is a recipient of this year's Common Ground Award.
Melissa will be a phone-in guest on two SIRIUS Satellite Radio shows: Tune in on Wed, Oct 14 at 1:00pm ET to Dr Radio: Oncology Show.
Originally issued on CD in 2008, A New Thought For Christmas will now be re-launched as a two-disc set, with a bonus live DVD of Melissa and her band performing all the songs from the album.
Melissa Etheridge Returns to "Slamming" Rock on March LP Fearless Love

Melissa Etheridge had a simple message when she met with producer John Shanks to discuss her next album.

Vince Gill & Melissa Etheridge

"All for the Hall" Los Angeles took place Thursday, October 1, 2009 at Club Nokia at L.A. Live. An invitation-only event for approximately 350 guests which included a cocktail reception, dinner (catered
Watch Melissa's recent performance of "I Run For Life" on Live with Regis & Kelly
09/30/2009 01:02 PM
| | |
| --- | --- |
| Captain Etheridge aboard Delta's Pink Plane | Check out Extra on Thursday, Oct 1 and Access Hollywood on Friday, Oct 2 for coverage of some of the in-flight festivities aboard Delta's Pink Plane. Melissa was also a guest on Regis & Kelly, which will be broadcast on Monday, Oct 5. Check local listings for times and channels in your area. |
09/29/2009 04:36 PM
| | |
| --- | --- |
| American Guitar & Band, Carlos Falchi, and Delta's Sky magazine are proud to present "La Vie en Rose," a one of-a-kind guitar strap designed by Falchi for Melissa Etheridge and worn on Sky's October cover. | |
On Tuesday, September 29, SIRIUS XM's The Pulse channel, SIRIUS channel 12 and XM channel 26, will broadcast a live performance by Melissa Etheridge as she launches Hard Rock International's month-long PINKTOBER(TM) breast cancer awareness program.
Due to schedule conflicts, Melissa will NOT be a guest on the Rachel Maddow Show as previously listed.
09/24/2009 07:41 PM
Sign-ups for Pinktober events in NYC & Wash D.C. are now closed. All winners have been notified via email.
09/23/2009 06:52 PM
Melissa will be part of the Good Morning America (GMA) Fall Concert Series. She will be performing on Monday, Sept 28 in New York City.
GMA airs live from 7am to 9am, with concert performances usually starting around 8:30am. Check local listings for the channel in your area.
09/23/2009 01:41 PM
10th Anniversary for Hard Rock's Pinktober!
2009 marks the 10th anniversary of the Hard Rock Intl's Pinktober - A national breast cancer awareness campaign held each October. Melissa is ready to help rock for a cure as she appears in NYC and DC for special Hard Rock celebrations. Visit our Pink Page for updates.
Kelly Clarkson joins Melissa in performing "Bring Me Some Water"

09/03/2009 04:25 PM
The "Men for Women Now" social media campaign is launching a promotion to benefit the Noreen Fraser Foundation and they need help getting the message out. Each time that someone visits MenForWomenNow.com and sends a pledge, Facebook's SocialVibe will donate $0.25 to the Noreen Fraser Foundation. The campaign on Facebook is called "Save some boobs - It's a matter of life and breast."
Don't miss the remaining shows on Melissa's amazing Live & Alone 2009 tour:
Sept 11 - Norman, OK
Sept 12 - Thackerville, OK
Oct 22 - Santa Ynez, CA
Read a review of Melissa's Cape Cod show:
Etheridge Alone But Full Of Life
By Gwenn Friss
August 30, 2009 - 2:46 AM
HYANNIS – Winds buffeted the Cape Cod Melody Tent last night, but drew little notice from the crowd inside that spent more than two hours wrapped in the embrace of Melissa Etheridge's "Alive and Alone Tour."
Etheridge was magic.
We will be taking questions from M.E.I.N. members for an upcoming interview with Melissa, so now is your chance to send that question you've always wanted answered. Be sure to submit your question(s) in the M.E.I.N. Members area by Thursday, Aug 20 at Noon Pacific Daylight Time. Maybe Melissa will answers yours in our upcoming interview!
To submit your question(s):
1. Go to the M.E.I.N. Members' portion.
2. Log in with your email and password on file.
3. Click on "Ask Melissa" from the menu bar at the top.
4. Submit your question(s).
The interview will be posted in the M.E.I.N. Members' section next month.
Melissa will be appearing on Kathy Griffin's show "My Life On The D-Llist" on Monday, July 27 (Season 5, Episode 8) where the subject will be Prop 8. Check your local listings for the time and channel in your area. Watch a preview
07/13/2009 02:59 PM
A Personal Wake Up Call
By DAVID MARK | 7/13/09
Al Gore's seven-continent Live Earth concerts two years ago featured a galaxy of celebrities aiming to raise awareness of climate change issues. In the sea of high-profile faces ranging from Jon Bon Jovi to Leonardo DiCaprio, singer-songwriter Melissa Etheridge stood out as she introduced the former vice president before a six-figure crowd at Giants Stadium.
Etheridge's appearance that day, including a performance of her hit "I Need to Wake Up" - from Gore's film, "An Inconvenient Truth" - was emblematic of her increasing involvement in environmental activism. POLITICO Senior Editor David Mark recently spoke with Etheridge about her ongoing work on environmental causes.
Melissa will be co-producing her upcoming 10th studio release with John Shanks. She is scheduled to be in the recording studio this summer. More details tba.
06/19/2009 08:32 PM
Melissa's show scheduled for Friday June 19 at Niagra Falls has been postponed until Sunday June 21.
06/17/2009 05:17 PM
"I Run For Life" will be featured in the July 19th episode of the Style Network's Ruby, the inspirational weight loss journey. The Style Network is on DirecTV channel 235 and Dish Network channel 115.
06/17/2009 05:01 PM
Melissa has signed on to the board of directors of the Noreen Fraser Foundation, which raises funds for developing new prevention methods and non-toxic therapies to treat women's cancers. "I have been searching for an organization to lend my name and insight with the same beliefs, outlook and treatment practices to combat women's cancers as I do. I look forward to helping NFF achieve their goals." - Melissa Etheridge Press Release
06/10/2009 02:24 PM
Is there a case for medical marijuana? Tune into Anderson Cooper's 360° special, America's High: The Case For and Against Pot, airing next week. Anderson will talk with Melissa about her use of medical marijuana during her battle with breast cancer. Airtime is Monday, June 15th and Friday, June 19th at the following times 7PM – 8PM, 8PM – 9PM and 11PM – midnight (Pacific Times). Please check your local listings for channel information.
06/09/2009 05:30 PM
Melissa joined more than 500 entertainment industry members who came together on June 4 for the first meeting of the Global Alliance for Transformational Entertainment (GATE). Spiritual teacher Eckhart Tolle and movie star/seeker Jim Carrey headlined the more-than-three-hour session at an auditorium on the Fox lot in Century City. GATE is an effort to gather like-minded Hollywood creatives to promote spiritually positive entertainment.
Melissa was a guest on The Stephanie Miller Show where the topic of discussion was the California Supreme Court's recent decision on Proposition 8. To listen to the chat, visit Stephanie Miller and you will see Melissa listed in the player in the upper left hand section of the home page.
05/26/2009 04:36 PM
"So, will anyone be sleeping better tonight? Those full of hate and fear will surely be disappointed that 18,000 same-sex couples will be living in wedded bliss, kissing their spouses goodnight, checking off those little 'married' boxes on all those forms we fill out nowadays.
"I Run For Life" will be featured prominently in Farrah Fawcett's documentary "Farrah's Story" to air Friday, May 15 on NBC.
Melissa performed "Ring The Bells" with Salman Ahmad at University of Southern California as part of the TEDxUSC conference on Monday, March 23rd.

Photo by Kel Sims
We are taking questions from M.E.I.N. members for our upcoming interview with Melissa's amazing musical director and bassist, Mark Browne.
Single-use batteries are on piling up on the shelves and in our landfills - the production and disposal of them are toxic to our environment. Go rechargeable and lighten your charge on the environment.
Single-use batteries are on piling up on the shelves and in our landfills - the production and disposal of them are toxic to our environment. Go rechargeable and lighten your charge on the environment.